Intensive English Day Camp is one of the projects of Training Department of Ocean Edu Vietnam to let the youth enjoy, participate and at the same time learn English. With various stations/activities like : Word- hunt, English Trivia, Dance, Song and Lyrics, Walk and talk, Sports - Intensive English Day Camp program aims to develop the skills like teamwork, time management, problem solving, creativity, leadership and of course the ENGLISH Skills of the participants.

Last November 12,2016 Ocean Edu organized Intensive English Day Camp at THCS LƯƠNG THẾ VINH Secondary School and also during that day the school celebrated English Festival 2016. The students were having fun participating in the event and it gives them the opportunity to speak English to Foreign Teachers.
More than 300 students joined the Ocean Edu Intensive English Day Camp
Intensive English Day Camp teacher with their opening dance number.
Students participated in the opening activity
Students with their dance number.
Prizes to be given in every English Intensive Day Camp
OPENING GAME: First pair to burst the balloon will be the winner.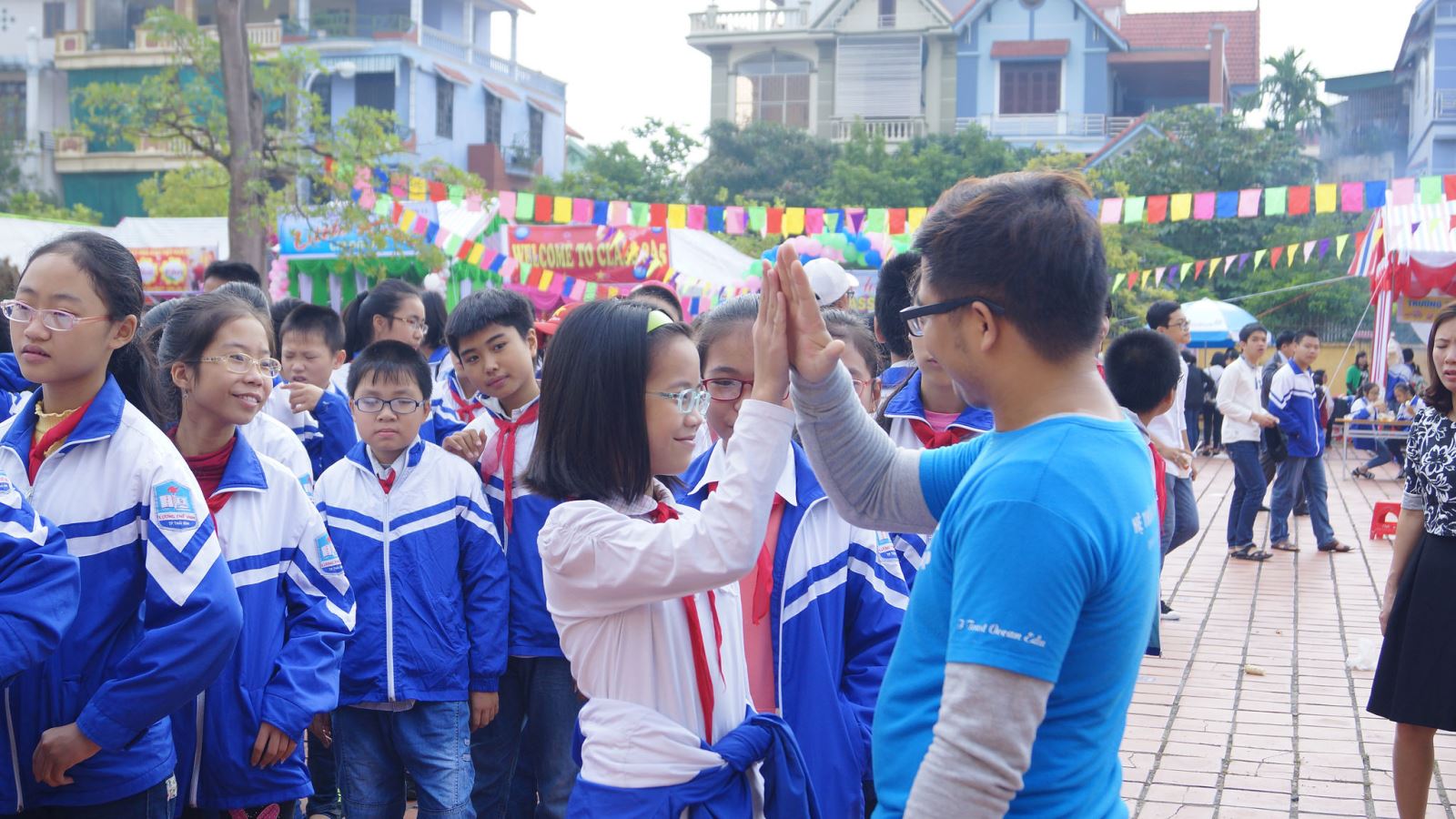 Teacher Mark asking the students wether they are ready to take on the challenge.


I. SPORTS STATION

In this station students were taught the basics of basketball while learning new vocabularies. It was so hard for the students to learn basketball since Vietnamese is more on FOOTBALL but nevertheless students enjoyed and feel hyped in this station.


II. DANCE STATION

In this station, students were taught new dance craze using English POP songs. This is one of the effective methods that Ocean Edu used for our students to be familiarize with the English Language.


III. WORD HUNT STATION

In this station students hunt letters and form it into correct English Words. This station will surely enhance their management skills as well as thinking skills.
IV. ENGLISH TRIVIA STATION

In this station students choose numbers , inside those numbers are English words with corresponding points. Team who have the most points wins the game. This is one of the methods that our teachers here in Ocean Edu use to make the learning environment more active.

"Song and Lyrics" - Đây là trạm đua thể hiện tài năng nghệ thuật, thể hiện phong cách riêng của mỗi em
V. SINGING STATION

In this station students were taught ENGLISH POP SONGS. This is one of the best ways to learn and familiarize new English Vocabularies.
CONCLUSION

At the end, Students learn and organizers were very happy to see them learn something from the camp. Ocean Edu Vietnam will always make program like this for our youth and students to experience living in an english environment because Ocean Edu live with its motto to Turn on your potential .
Head office: Tòa nhà Ocean Edu, 204 Nguyễn Lương Bằng, Đống Đa, Hà Nội
Telephone: 0473000333 | CSKH 19006494 | Hotline 0125 269 8686
Website: www.ocean.edu.vn
English Website: http://en.ocean.edu.vn
Fanpage: www.facebook.com/OceanEduVietNam
RELATED POST :

Ocean Edu Vietnam Successfully organized "INTENSIVE ENGLISH DAY CAMP" in Quang trung Secondary School.